Water Features, Fountains, and Barbecues
Water Features
Water features tend to be the single most unique and artistic element of a construction project. Water features can differ dramatically, as they can be realized in a myriad of different forms, from basins and fountains, to ponds and water falls. Like barbecues and cooking areas, water features often call for plumbing, electrical, and even iron work. Also, these features often incorporate an item that has been procured by the property owner, such as a vase, spigot, or sculpture.
In general, the masonry element of a water feature includes some type of pedestal, to support the main feature, and a basin to catch and re-circulate the water. These elements are usually given a highly artistic treatment, while at the same time, serving their functional purpose of supporting pumps, electrical components, or other elements necessary for the water feature to function and remain water tight.
Water features may be relatively small, or they may be fairly large, as in the case of a custom built pond or waterfall.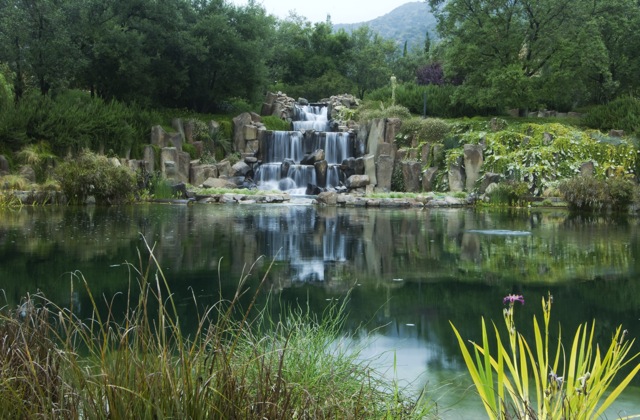 Barbecues and Outdoor Cooking Areas
Barbecues are often the centerpiece of a residential back yard. Typically, the client selects appliances that are to be contained in the outdoor kitchen, such as a refrigerator, stove, or barbecue, and then a custom masonry structure is built to house these items. This structure can be relatively simple (essentially a decorative stand for a barbecue,) or it can be considerably more complex, including cabinets, countertops, a refrigeration area, etc. This structure is constructed from CMU block, and then faced with stone, brick, or given another decorative finish, such as smooth stucco. Then, plumbing and electricity is installed as needed.
Mike Pearson Construction, Inc.
Residential and Commercial Masonry
Ph: (818) 999-6780
Fax: 818-887-7597
Lic # 854639