Residential and Commercial Masonry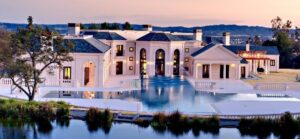 Renown as an elite group of high-end masonry specialists, Mike Pearson's crews have worked on some of the most challenging and complex masonry projects in Southern California. Every line, every cut, and each structural element is treated with the utmost care and executed with absolute precision. At the same time, 30 years of building the most challenging and customized projects have allowed this level of care to be attained with staggering efficiency.
Mike Pearson Construction is a group of journeyman masons with over thirty years of experience in all facets of residential and commercial hardscape. We offer a broad range of services to homeowners, designers, architects, and developers. We have considerable experience in the construction of commercial, industrial, and institutional facilities, and multi-family, custom home, and tract construction. Whether the project calls for a highly skilled artisan with over a quarter of century of experience bringing the most exquisite and specialized artistic expressions to life, or a massive team consisting of multiple crews, supported by project engineers and state of the art equipment, Mike Pearson Construction is the one concrete contractor in Los Angeles that has the manpower, experience, and organizational structure necessary to execute and complete your project on time and within your budget. While some masonry contractors specialize in one or two areas, Mike Pearson Construction offers expertise in a broad range of services. We are at once a hardscape contractor, concrete contractor, foundation contractor, driveway contractor, brick and stone contractor, fireplace contractor, and structural masonry specialist. We are fully licensed, bonded, and insured.
More Residential Masonry Services Here!

Custom Stone
Barbecues
Bluestone
Borders
Carved Limestone
Concrete Driveways
Custom Brick
Custom Brickwork
Decorative Concrete
Driveways
Drystack
Fireplaces
Flagstone
Flatwork
Ledger Stone
Marble
Pool Coping
Poured In Place
Stacked Stone
Stamped Concrete
Stone Caps
Stone Facing
Travertine
Veneer
No masonry project, no matter how specialized or complex, is outside the scope of Mike Pearson Construction, Inc. If it can be envisioned, imagined, or drawn, we can move you quickly through the bidding and the construction phase to accomplish your vision. Mike Pearson Construction, Inc. has remained at the forefront of builders in a world that is replete with rapid advances in construction materials and techniques, and one that is driven by the vision of cutting edge architects.
Mike Pearson Construction, Inc. offers the full complement of residential and commercial masonry services, from custom water features, barbecues, and stone work, to pilings, caissons and grade beam foundations. Mike Pearson Construction also specializes in architectural concrete, custom carved limestone, and employs a veteran crew of fireplace and chimney experts.
Whether your project is an intimate addition to your property such as a water feature or barbecue, a complete renovation of your home, or a large, complex commercial project, Mike Pearson Construction and his crew of journeyman masons can guide you quickly through the process. Contact us today for a free consultation.
Mike Pearson Construction, Inc.
Residential and Commercial Masonry
Ph: (818) 999-6780
Fax: 818-887-7597
Lic # 854639