Foundations and Structural Concrete
For over thirty years, Mike Pearson Construction, Inc. has been one of the leading structural concrete and foundation contractors in the greater Los Angeles area. We are a fully-equipped and OSHA-certified foundation contractor, complete with a LEED AP on staff, with the manpower and expertise necessary to oversee and install structural foundations, structural slabs, structural decks, grade beams, caissons, soldier piles, basements, tilt wall panels, elevated slab on metal decks, elevated formed decks, post-tensioned slabs, and retaining walls.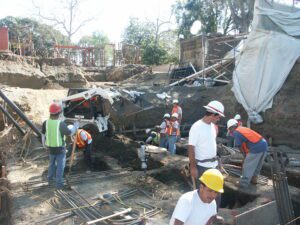 Since 1980, we have served homeowners, contractors, designers, builders and development firms in projects ranging from custom hardscape for residential projects, to massive structural concrete and foundation work for large commercial developments. We have a team of experts qualified to take on any masonry project from custom stone, brick, stamped and colored concrete, barbecues, driveways, fireplaces, and water features, to structural concrete, grade beam foundations, soldier piles, caissons, retaining walls, concrete lids, structural decks, and poured in place walls. We are CAD capable, and OSHA certified. We have worked with some of the most prestigious architects and designers in Los Angeles, and have completed some of the most demanding and complex residential and commercial masonry projects in Southern California.
We have considerable experience in the construction of commercial, industrial, and institutional facilities, and multi-family, custom home, and tract residential markets. As an OSHA-certified subcontractor, Mike Pearson Construction, Inc. has worked with some of the premier developers, construction management firms, and architects in Southern California over the last 30 years. (Please see our Affiliates and Clients page.) We offer a range of services broad enough to bid, undertake, and complete the most complex and demanding masonry projects. When a general contractor is tasked with procuring bids for a multi-faceted job that includes structural slabs, grade beam foundations, caissons, architectural concrete, and finish hardscape work such as stone, barbecues, stone veneer, carved limestone, and water features, Mike Pearson Construction, Inc. is the ideal choice, as our firm can bid and build every element of the project, allowing the general contractor to oversee one masonry firm instead of two or three.
Mike Pearson has a proven track record of quality, cost effective projects. We owe this record to our commitment to the team concept of project management. We work closely with Builders, Contractors, Architects, Engineers, and Owners, because we feel that communication is the key element in the success of a construction project. The free flow of detailed information between all parties is essential to that goal.
(For a complete list of CSI codes, see below.)
CSI Codes:
030000 – Concrete

03 06 10 – Schedules for Concrete Forming and Accessories
03 06 20 – Schedules for Concrete Reinforcing
03 06 20.13 – Concrete Beam Reinforcing Schedule
03 06 20.16 – Concrete Slab Reinforcing Schedule
03 06 30 – Schedules for Cast-in-Place Concrete
03 06 30.13 – Concrete Footing Schedule
03 06 30.16 – Concrete Column Schedule
03 06 30.19 – Concrete Slab Schedule
03 06 30.23 – Concrete Shaft Schedule
03 06 30.26 – Concrete Beam Schedule
03 06 40 – Schedules for Precast Concrete
03 06 40.13 – Precast Concrete Panel Schedule
03 06 50 – Schedules for Cast Decks and Underlayment
03 06 60 – Schedules for Grouting
03 06 70 – Schedules for Mass Concrete
03 06 80 – Schedules for Concrete Cutting and Boring
03 08 00 – Commissioning of Concrete
03 10 00 – Concrete Forming and Accessories
03 11 00 – Concrete Forming
03 11 13 – Structural Cast-in-Place Concrete Forming
03 11 13.13 – Concrete Slip Forming
03 11 13.16 – Concrete Shoring
03 11 13.19 – Falsework
03 11 16 – Architectural Cast-in Place Concrete Forming
03 11 16.13 – Concrete Form Liners
03 11 19 – Insulating Concrete Forming
03 11 23 – Permanent Stair Forming
03 15 00 – Concrete Accessories
03 15 13 – Waterstops
03 20 00 – Concrete Reinforcing
03 21 00 – Reinforcing Steel
03 21 13 – Galvanized Reinforcing Steel
03 21 16 – Epoxy-Coated Reinforcing Steel
03 22 00 – Welded Wire Fabric Reinforcing
03 22 13 – Galvanized Welded Wire Fabric Reinforcing
03 22 16 – Epoxy-Coated Welded Wire Fabric Reinforcing
03 23 00 – Stressing Tendons
03 24 00 – Fibrous Reinforcing
03 30 00 – Cast-in-Place Concrete
03 30 53 – Miscellaneous Cast-in-Place Concrete
03 31 00 – Structural Concrete
03 31 13 – Heavyweight Structural Concrete
03 31 16 – Lightweight Structural Concrete
03 31 19 – Shrinkage-Compensating Structural Concrete
03 31 23 – High-Performance Structural Concrete
03 31 26 – Self-Compacting Concrete
03 33 00 – Architectural Concrete
03 33 13 – Heavyweight Architectural Concrete
03 33 16 – Lightweight Architectural Concrete
03 34 00 – Low Density Concrete
03 35 00 – Concrete Finishing
03 35 13 – High-Tolerance Concrete Floor Finishing
03 35 16 – Heavy-Duty Concrete Floor Finishing
03 35 19 – Colored Concrete Finishing
03 35 23 – Exposed Aggregate Concrete Finishing
03 35 26 – Grooved Concrete Surface Finishing
03 35 29 – Tooled Concrete Finishing
03 35 33 – Stamped Concrete Finishing
03 37 00 – Specialty Placed Concrete
03 37 13 – Shotcrete
03 37 16 – Pumped Concrete
03 38 16 – Unbonded Post-Tensioned Concrete
03 38 19 – Bonded Post-Tensioned Concrete
03 39 00 – Concrete Curing
03 39 13 – Water Concrete Curing
03 39 16 – Sand Concrete Curing
03 39 23 – Membrane Concrete Curing
03 39 23.13 – Chemical Compound Membrane Concrete Curing
03 39 23.23 – Sheet Membrane Concrete Curing
03 40 00 – Precast Concrete
03 41 00 – Precast Structural Concrete
03 41 13 – Precast Concrete Hollow Core Planks
03 41 16 – Precast Concrete Slabs
03 41 23 – Precast Concrete Stairs
03 41 33 – Precast Structural Pretensioned Concrete
03 41 36 – Precast Structural Post-Tensioned Concrete
03 45 00 – Precast Architectural Concrete
03 45 13 – Faced Architectural Precast Concrete
03 45 33 – Precast Architectural Pretensioned Concrete
03 45 36 – Precast Architectural Post-Tensioned Concrete
03 47 00 – Site-Cast Concrete
03 47 13 – Tilt-Up Concrete
03 47 16 – Lift-Slab Concrete
03 48 00 – Precast Concrete Specialties
03 48 13 – Precast Concrete Bollards
03 48 16 – Precast Concrete Splash Blocks
03 48 19 – Precast Concrete Stair Treads
03 48 43 – Precast Concrete Trim
03 49 00 – Glass-Fiber-Reinforced Concrete
03 49 13 – Glass-Fiber-Reinforced Concrete Column Covers
03 49 16 – Glass-Fiber-Reinforced Concrete Spandrels
03 49 43 – Glass-Fiber-Reinforced Concrete Trim
03 50 00 – Cast Decks and Underlayment
03 51 00 – Cast Roof Decks
03 51 13 – Cementitious Wood Fiber Decks
03 51 16 – Gypsum Concrete Roof Decks
03 52 00 – Lightweight Concrete Roof Insulation
03 52 13 – Composite Concrete Roof Insulation
03 52 16 – Lightweight Insulating Concrete
03 52 16.13 – Lightweight Cellular Insulating Concrete
03 52 16.16 – Lightweight Aggregate Insulating Concrete
03 53 00 – Concrete Topping
03 53 13 – Emery-Aggregate Concrete Topping
03 53 16 – Iron-Aggregate Concrete Topping
03 54 00 – Cast Underlayment
03 60 00 – Grouting
03 61 00 – Cementitious Grouting
03 61 13 – Dry-Pack Grouting
03 62 00 – Non-Shrink Grouting
03 62 13 – Non-Metallic Non-Shrink Grouting
03 62 16 – Metallic Non-Shrink Grouting
03 63 00 – Epoxy Grouting
03 64 00 – Injection Grouting
03 64 23 – Epoxy Injection Grouting
03 80 00 – Concrete Cutting and Boring
03 81 00 – Concrete Cutting
03 81 13 – Flat Concrete Sawing
03 81 16 – Track Mounted Concrete Wall Sawing
03 81 19 – Wire Concrete Wall Sawing
03 81 23 – Hand Concrete Wall Sawing
03 81 26 – Chain Concrete Wall Sawing
03 82 00 – Concrete Boring
03 82 13 – Concrete Core Drilling
040000 – Masonry

04 01 00 – Maintenance of Masonry
04 01 20 – Maintenance of Unit Masonry
04 01 20.51 – Unit Masonry Maintenance
04 01 20.52 – Unit Masonry Cleaning
04 01 20.91 – Unit Masonry Restoration
04 01 20.93 – Testing and Sampling Brick Units for Restoration
04 01 40 – Maintenance of Stone Assemblies
04 01 40.51 – Stone Maintenance
04 01 40.52 – Stone Cleaning
04 01 40.91 – Stone Restoration
04 01 50 – Maintenance of Refractory Masonry
04 01 60 – Maintenance of Corrosion-Resistant Masonry
04 01 70 – Maintenance of Manufactured Masonry
04 05 00 – Common Work Results for Masonry
04 05 13 – Masonry Mortaring
04 05 13.16 – Chemical-Resistant Masonry Mortaring
04 05 13.19 – Epoxy Masonry Mortaring
04 05 13.23 – Surface Bonding Masonry Mortaring
04 05 13.26 – Engineered Masonry Mortaring
04 05 13.29 – Refractory Masonry Mortaring
04 05 13.91 – Masonry Restoration Mortaring
04 05 16 – Masonry Grouting
04 05 16.16 – Chemical-Resistant Masonry Grouting
04 05 16.26 – Engineered Masonry Grouting
04 05 19 – Masonry Anchorage and Reinforcing
04 05 19.13 – Continuous Joint Reinforcing
04 05 19.16 – Masonry Anchors
04 05 19.26 – Masonry Reinforcing Bars
04 05 19.29 – Stone Anchors
04 05 23 – Masonry Accessories
04 05 23.13 – Masonry Control and Expansion Joints
04 05 23.16 – Masonry Embedded Flashing
04 05 23.19 – Masonry Cavity Drainage, Weepholes, and Vents
04 06 00 – Schedules for Masonry
04 06 20 – Schedules for Unit Masonry
04 06 20.13 – Masonry Unit Schedule
04 06 40 – Schedules for Stone Assemblies
04 06 50 – Schedules for Refractory Masonry
04 06 60 – Schedules for Corrosion-Resistant Masonry
04 06 70 – Schedules for Manufactured Masonry
04 08 00 – Commissioning of Masonry
04 20 00 – Unit Masonry
04 21 00 – Clay Unit Masonry
04 21 13 – Brick Masonry
04 21 13.13 – Brick Veneer Masonry
04 21 13.23 – Surface-Bonded Brick Masonry
04 21 16 – Ceramic Glazed Clay Masonry
04 21 19 – Clay Tile Masonry
04 21 23 – Structural Clay Tile Masonry
04 21 26 – Glazed Structural Clay Tile Masonry
04 21 29 – Terra Cotta Masonry
04 22 00 – Concrete Unit Masonry
04 22 00.13 – Concrete Unit Veneer Masonry
04 22 00.16 – Surface-Bonded Concrete Unit Masonry
04 22 19 – Insulated Concrete Unit Masonry
04 22 23 – Architectural Concrete Unit Masonry
04 22 23.13 – Exposed Aggregate Concrete Unit Masonry
04 22 23.16 – Fluted Concrete Unit Masonry
04 22 23.19 – Molded-Face Concrete Unit Masonry
04 22 23.23 – Prefaced Concrete Unit Masonry
04 22 23.26 – Sound-Absorbing Concrete Unit Masonry
04 22 23.29 – Split-Face Concrete Unit Masonry
04 22 33 – Interlocking Concrete Unit Masonry
04 23 00 – Glass Unit Masonry
04 23 13 – Vertical Glass Unit Masonry
04 23 16 – Glass Unit Masonry Floors
04 23 19 – Glass Unit Masonry Skylights
04 24 00 – Adobe Unit Masonry
04 24 13 – Site-Cast Adobe Unit Masonry
04 24 16 – Manufactured Adobe Unit Masonry
04 25 00 – Unit Masonry Panels
04 25 13 – Metal-Supported Unit Masonry Panels
04 27 00 – Multiple-Wythe Unit Masonry
04 27 13 – Composite Unit Masonry
04 27 23 – Cavity Wall Unit Masonry
04 28 00 – Concrete Form Masonry Units
04 28 13 – Dry-Stacked, Concrete-Filled Masonry Units
04 28 23 – Mortar-Set, Concrete-Filled Masonry Units
04 40 00 – Stone Assemblies
04 41 00 – Dry-Placed Stone
04 42 00 – Exterior Stone Cladding
04 42 13 – Masonry-Supported Stone Cladding
04 42 16 – Steel-Stud-Supported Stone Cladding
04 42 19 – Strongback-Frame-Supported Stone Cladding
04 42 23 – Truss-Supported Stone Cladding
04 42 26 – Grid-System-Supported Stone Cladding
04 42 43 – Stone Panels for Curtain Walls
04 43 00 – Stone Masonry
04 50 00 – Refractory Masonry
04 51 00 – Flue Liner Masonry
04 52 00 – Combustion Chamber Masonry
04 53 00 – Castable Refractory Masonry
04 54 00 – Refractory Brick Masonry
04 57 00 – Masonry Fireplaces
04 60 00 – Corrosion-Resistant Masonry
04 61 00 – Chemical-Resistant Brick Masonry
04 62 00 – Vitrified Clay Liner Plate
04 70 00 – Manufactured Masonry
04 71 00 – Manufactured Brick Masonry
04 71 13 – Calcium Silicate Manufactured Brick Masonry
04 72 00 – Cast Stone Masonry
04 73 00 – Manufactured Stone Masonry
04 73 13 – Calcium Silicate Manufactured Stone Masonry
Maintenance of Masonry – Emery-Aggregate Concrete Topping
Maintenance of Unit Masonry – Iron-Aggregate Concrete Topping
Unit Masonry Maintenance – Cast Underlayment
Unit Masonry Cleaning – Grouting
Unit Masonry Restoration – Cementitious Grouting
Testing and Sampling Brick Units for Restoration – Dry-Pack Grouting
Maintenance of Stone Assemblies – Non-Shrink Grouting
Stone Maintenance – Non-Metallic Non-Shrink Grouting
Stone Cleaning – Metallic Non-Shrink Grouting
Stone Restoration – Epoxy Grouting
Maintenance of Refractory Masonry – Injection Grouting
Maintenance of Corrosion-Resistant Masonry – Epoxy Injection Grouting
Maintenance of Manufactured Masonry – Concrete Cutting and Boring
Common Work Results for Masonry – Concrete Cutting
Masonry Mortaring – Flat Concrete Sawing
Chemical-Resistant Masonry Mortaring – Track Mounted Concrete Wall Sawing
Epoxy Masonry Mortaring – Wire Concrete Wall Sawing
Surface Bonding Masonry Mortaring – Hand Concrete Wall Sawing
Engineered Masonry Mortaring – Chain Concrete Wall Sawing
Refractory Masonry Mortaring – Concrete Boring
Masonry Restoration Mortaring – Concrete Core Drilling
310000 – Earthwork

31 62 13 – Concrete Piles
31 62 13.13 – Cast-in-Place Concrete Piles
31 62 13.16 – Concrete Displacement Piles
31 62 13.19 – Precast Concrete Piles
31 62 13.23 – Prestressed Concrete Piles
31 62 13.26 – Pressure-Injected Footings
31 62 16 – Steel Piles
31 62 16.13 – Sheet Steel Piles
31 62 16.16 – Steel H Piles
31 62 16.19 – Unfilled Tubular Steel Piles
31 62 19 – Timber Piles
31 62 23 – Composite Piles
31 62 23.13 – Concrete-Filled Steel Piles
31 62 23.16 – Wood and Cast-In-Place Concrete Piles
31 63 00 – Bored Piles
31 63 26 – Drilled Caissons
31 63 26.13 – Fixed End Caisson Piles
31 63 26.16 – Concrete Caissons for Marine Construction
31 63 29 – Drilled Concrete Piers and Shafts
31 63 29.13 – Uncased Drilled Concrete Piers
31 63 29.16 – Cased Drilled Concrete Piers
31 63 33 – Drilled Micropiles
31 64 00 – Caissons
31 64 13 – Box Caissons
31 64 16 – Excavated Caissons
31 64 19 – Floating Caissons
31 64 23 – Open Caissons
31 64 26 – Pneumatic Caissons
31 64 29 – Sheeted Caissons
31 66 00 – Special Foundations
31 66 13 – Special Piles
31 66 16 – Special Foundation Walls
31 66 16.13 – Anchored Foundation Walls
31 66 16.23 – Concrete Cribbing Foundation Walls
31 66 16.26 – Metal Cribbing Foundation Walls
31 66 16.33 – Manufactured Modular Foundation Walls
31 66 16.43 – Mechanically Stabilized Earth Foundation Walls
31 66 16.46 – Slurry Diaphragm Foundation Walls
31 66 16.53 – Soldier-Beam Foundation Walls
31 66 16.56 – Permanently-Anchored Soldier-Beam Foundation Walls
31 66 19 – Refrigerated Foundations
Mike Pearson Construction, Inc.
Residential and Commercial Masonry
Ph: (818) 999-6780
Fax: 818-887-7597
Lic # 854639