Stamping, Staining, Scoring, Exposed Aggregate, Permeable Pavers, and More…
There are many alternatives to stone and brick for walkways and driveways. Concrete can be given a number of specialized treatments that can give it a complex and decorative treatment. Or, the outer skin of concrete can be removed to expose the aggregate underneath (a finish referred to as exposed aggregate.) Permeable pavers can also be used for flat surfaces. These pavers allow water to permeate back into the water table. They are beautiful, durable, and and environmentally friendly.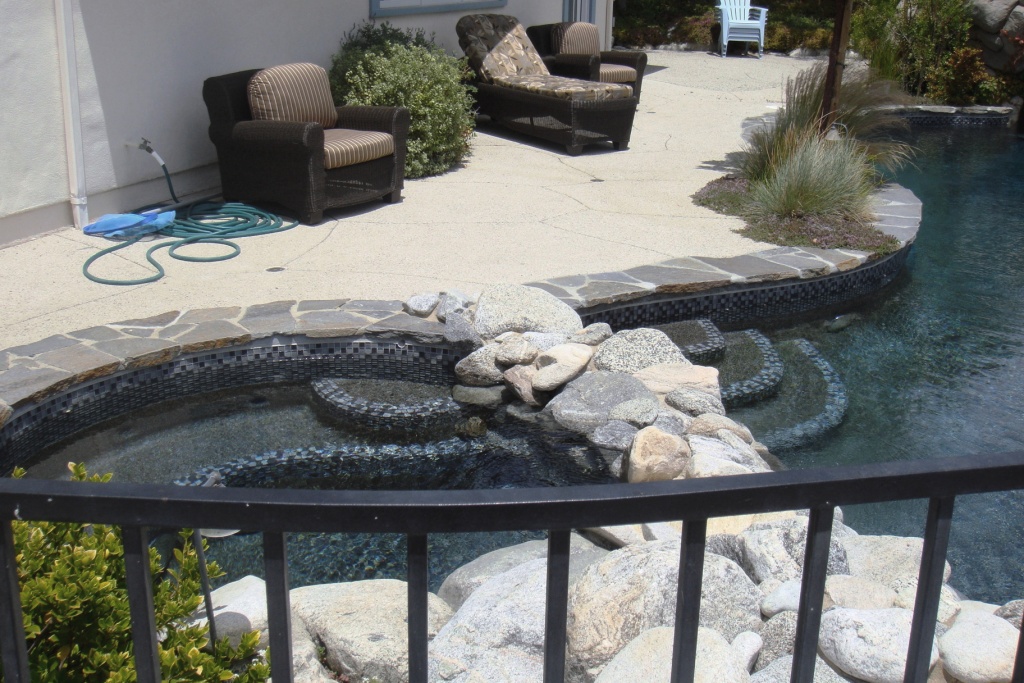 Concrete
Concrete has a proven record for strength, durability, and cost effectiveness for a variety of applications including floors, walkways, patios and driveways. Concrete floors are found in a variety of residential settings, from high-rise condominiums, to basements remodeled for extra living space, to slab-on-grade construction. Mike Pearson Construction is one of the foremost experts in the field of concrete installation, including the demanding and highly specialized field of decorative concrete. Decorative concrete covers a wide variety of treatments for concrete. Concrete can be treated with stains or colorants to create a rich variety of hues and textures, or stamped with patterns to mimic natural surfaces from marble to wood planks. Whether the project calls for stamping, integral colorants, acid or water based staining, polishing, engraving, or a myriad of other finishes or treatments, Mike Pearson offers you expertise unparalleled in the industry. The resulting floor finishes combine beauty and creativity with the economy, durability, and practicality of concrete. Some concrete finishing options include: scoring, stamping, chemical staining, integral color, colored release agents, and many more specialized concrete finishes. Below is an overview of some of the most popular decorative concrete techniques:
Stamping
One of the most popular treatments for concrete is stamping, wherein a stamp or mold is applied to wet concrete. The stamp is then removed, leaving its impression in the dry concrete. This impression can create the appearance of brick, stone, or many other interesting and attractive artistic patterns.
Scoring
Shallow cuts can be made in existing concrete surfaces to suggest tile grout lines or simply create geometric designs and patterns to separate colors.
Chemical Staining
Chemical staining is a coloring process that involves a chemical reaction on a cementitious material. A solution made with water, acid, and inorganic salts reacts with minerals already present in the concrete, the result of this reaction is color. Chemical staining gives concrete a mottled, variegated, marble like look. It creates beautiful colors on concrete, mostly earth tone browns, reddish browns and greens. A wide array of effects can be created using brushes, mops, sprayers, etc., or by creating patterns with leaves, sawdust, rags, or other inert materials.
Integral Color
Integral color differs from chemical staining in practice and appearance. Integral color is added to a batch of concrete to create a uniform color throughout the concrete. There are many different colors available, and these colors can be used to match colors already existing on a property very closely (although an exact match can never be guaranteed.)
Colored Release Agents
Pigmented powder or liquid agents are used with pattern stamps to reduce friction and facilitate their removal from fresh concrete surfaces. Applicators may choose release agent colors that contrast or compliment hardener colors to produce a mottled patina or "antique" look on the patterned surface. Unlike the other methods described here, these pigments do not penetrate the concrete surface and must be protected by sealers or wax finishes.
Radiant Heat Concrete Flooring
In addition to decorative treatments on top of concrete, Mike Pearson Construction, Inc. also provides services geared towards heating your concrete floor with radiant heat systems for concrete flooring. A number of options are available to heat your concrete floor with a radiant heating system. Radiant heat systems involve laying electrical or hydraulic heating elements underneath a concrete slab to create a highly effective and energy efficient heating system for your concrete floor.
Exposed Aggregate
Exposed aggregate concrete is a decorative style of concrete suitable for use as a driveway, sidewalk, or patio. The appeal is in the finish, which exposes the smooth textured small stones and pebbles that are part of the concrete. This is in contrast to a smooth concrete finish, where the visible surface is primarily composed of the 'fines' within the concrete. Exposed aggregate provides some visual interest by creating random patterns, and a variety of colors.
Permeable Pavers
Permeable pavers are allow water to infiltrate back into the water table, making them one of the primary construction materials utilized in eco-friendly or "green" construction projects. Permeable pavers are not grouted, and are set on gravel instead of concrete, which allow surface water to pass through them. However, they do not sacrifice anything in terms of beauty or strength. They are a perfect environmentally friendly alternative to concrete or stone.
Architectural Concrete
Architectural concrete is a general term given to a number of different treatments in which concrete is cast into a custom mold to create patterns in concrete, or to create usable finish structures or even sculptures.
For example, concrete can be poured into molds that the shape and size of 2 x 4's. The concrete is colored, and the mold imprints a pattern on the concrete that closely resembles wood. The final product can be used to construct sturdy and long lasting structures such as rail fences that will last significantly longer that their wooden counterparts. We see fences constructed in this manner all the time, in public parks for example, and often don't realize that we are looking at a structure constructed from concrete.
Concrete can be molded into almost any shape imaginable, and architectural concrete can be used to create sturdy, functional and beautiful objects of all shapes and sizes, such as benches, walls, barbecues, steps, and other decorative structures.
Mike Pearson Construction, Inc.
Residential and Commercial Masonry
Ph: (818) 999-6780
Fax: 818-887-7597
Lic # 854639