Stone and brick have a wide variety of applications. Both can be applied horizontally in order to create driveways, walkways, patios, decks, and other finished surfaces. Stone and brick can also be applied vertically in order to veneer surfaces such as walls, steps, water features, or other standing structures. Below is an overview of some of the general options available for installing stone and brick hardscape on a residential or commercial project.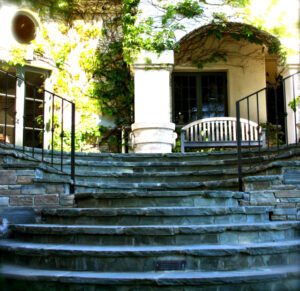 Flatwork
The general term given to the horizontal application of stone or brick is "flatwork." Driveways and walkways are examples of masonry flatwork. Stone and brick flatwork can generally be applied in two ways: 1. Over a concrete base, or 2. Directly on the grade (on a bed of sand, for example.) Setting stone or brick on a concrete base (a poured concrete slab which is reinforced with rebar) is certainly the most sturdy (and most common application.) Masonry material set over a concrete base will last for decades. However, there can be artistic advantages to setting stone directly into the grade. For example, stone can be set into the soil in such a way that plant material can be planted between each stone, which can create an interesting contrast. Of course, stone or brick installed in this manner will move or sink over time.
Patterns
Stone can be laid out in a number of ways in order to create interesting and unique patterns. Flagstone, limestone, and travertine, for example, can be laid out in a random pattern, or the stone can be cut into squares, rectangles, or other regular shapes, in order to be laid out in a repeating pattern (much like tile.) Since brick is manufactured to be rectangular, it is often laid out in a repeating pattern such as basket-weave, herringbone, and running bond. Brick can also be used in conjunction with stone or other materials to create interesting artistic details. Some of the most unique patterns are attained when a skilled mason is simply left to improvise. Of course, all of these various types of cuts can be integrated to create complex, multifaceted designs. Random, straight, and curvilinear cuts can all be employed to create borders, complex patterns, and all manner of interesting architectural details.
Veneer, Caps, and Pool Coping
When stone or brick is used on a horizontal surface, such as a wall, it is referred to as veneer. Generally, a masonry element (such as a wall or a post) is constructed, and the stone or brick is affixed to the surface. The stone or brick can be set into the same patterns as flatwork (cut into regular patterns, or set randomly) but stone can also be set against the surface so that it appears that the stone was actually stacked (as in the photo to the right.) This is referred to as ledger stone or "stacked stone." When stone is applied in this manner, the joints are not grouted, so the stone almost appears if it was stacked in place dry.
Stone and brick can also be used to cap surfaces, such as walls, mailboxes, post, barbecues, water features, or other site structures. Capping a wall or post with a stone or brick cap gives it a finished, decorative appearance.
The perimeter of a pool is generally finished with a row of brick or stone called coping, which is a treatment similar to the capping of a wall or post.
Mike Pearson Construction, Inc.
Residential and Commercial Masonry
Ph: (818) 999-6780
Fax: 818-887-7597
Lic # 854639